The Urgency of Handling Water Damage
Water damage can come from a variety of sources within your home or outside. Unfortunately, buildings are not impervious to water. In fact, water is one of your home's biggest enemies. Water is detrimental to a variety of building materials: wood, drywall, metal, etc. When these materials sustain significant damage, you must seek water damage restoration services. Space Construction is more than a remodeling company. Our contractors are capable of restoring properties from various stages of water damage, no matter where it is in your home. It's best you seek restoration services as soon as possible to prevent further damage and mold.
Water Damage Restoration No Matter the Source
Space Construction is capable of restoring any kind of water damage you may have experienced. We've helped homeowners repair roof damage, flooring damage, drywall, and more. A majority of homeowners experience water damage from sources within their homes. We've helped identify the source of the water damage and perform the necessary repairs.
Of course, our team can perform water damage restoration services no matter where it originates. The following are the most common sources or causes of water damage:
Busted pipe

Leaking pipe

Sewage backup

Appliances

Sump pump failure

Roof leak

Natural disaster
Contact Us For A Free Quote
The Water Damage Restoration Process
Water damage restoration can last a week or several months, depending on the extent of the damage. Space Construction follows industry best practices for the most efficient and effective restoration process possible. When you reach out for our restoration services, we'll follow the process we've outlined below:
1. Inspection: We'll perform a thorough inspection of the water damage upon your request. This will help us acquire the information we need to create a timeframe and price estimate. During the inspection, we look for any signs of mold and try to locate the source of the water, if not apparent.
2. Water and Material Removal: If there is any kind of standing water or seriously damaged materials, we remove them. Removing standing water is typically done with an industrial sump pump or vacuum equipment. Any materials we discard during this phase will be replaced later.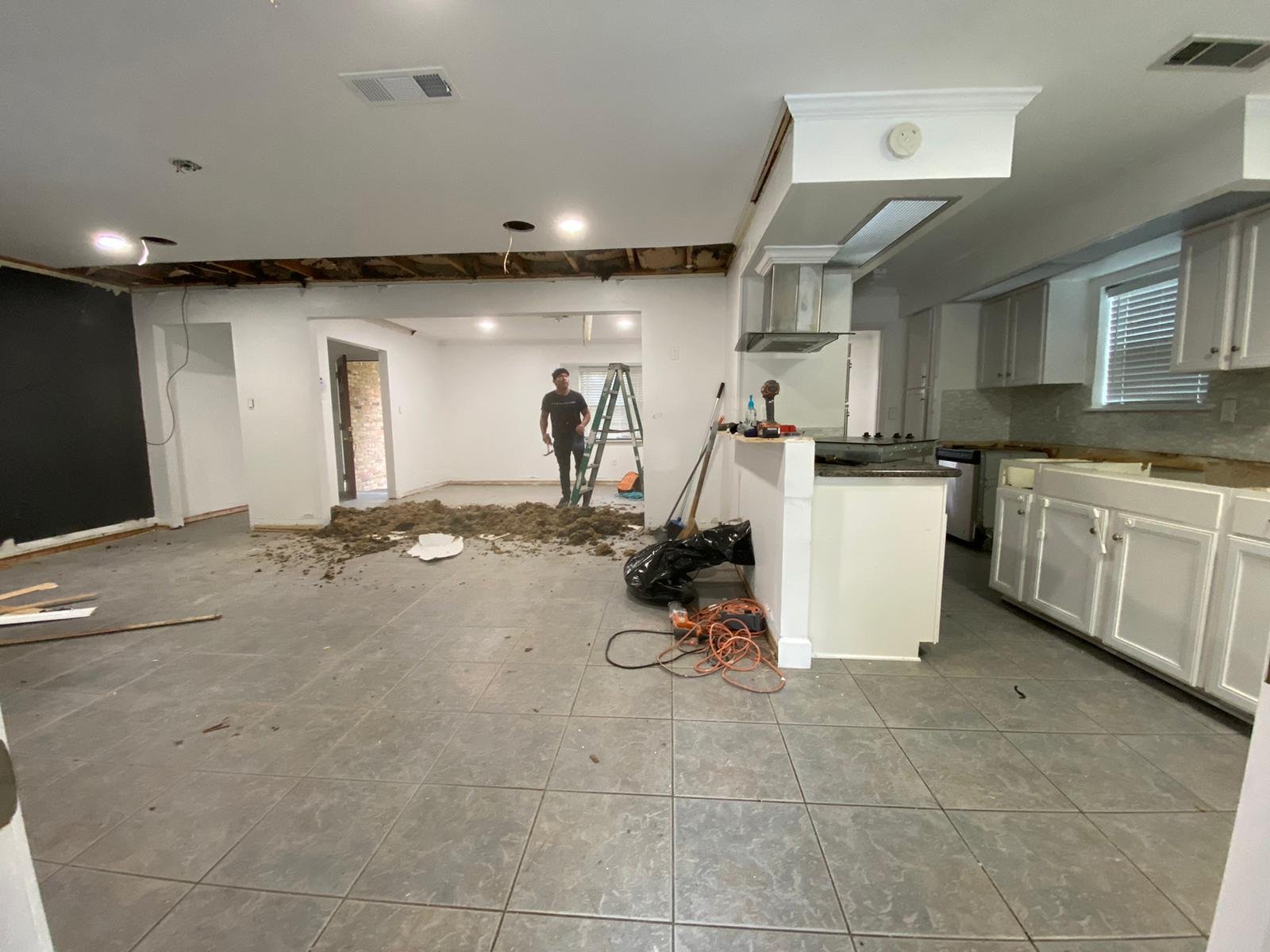 3. Drying: We'll dry out the area and materials we can save using dehumidifiers and high-powered fans. These two types of equipment are essential in preventing mold growth on the materials impacted by the moisture. Drying can take a few days or over a week. It all depends on the extent of the water damage.
4. Cleanup and Sanitation: As we've mentioned, moisture promotes mold growth, so proper cleaning and sanitation assist in preventing such a problem. We'll use the right chemicals and disinfectants to remove any chance for mold to take root in your home.
5. Restoration: Finally, the last step in the process is to restore any materials or areas that were not salvageable. This process may include drywall, flooring, painting, roofing, electrical, plumbing, or anything else required to restore the property.
FAQs
Water damage restoration involves a lot of factors and creates a lot of stress for you. We understand this kind of situation can also bring up a lot of questions. Well, here are some frequently asked questions we've answered for your convenience.
What is the typical cost for water damage restoration?
According to HomeAdvisor, the average cost of water damage restoration is $1,234 to $5,256. The factors that will play into the cost of your restoration project will be the extent of the damage, the materials damaged, and if mold has started to grow. For an accurate estimate for your restoration effort, give Space Construction a call.
How long does water damage restoration take?
It takes approximately one to three weeks to restore property from water damage. Some factors can increase your restoration efforts, such as the discovery of mold or the severity of the water damage.
Will Space Construction help me with my insurance claim?
Yes! We have a whole service dedicated to helping homeowners file insurance claims for water damage. Our experts handle everything from beginning to end to ensure your claim is approved and is maximized to save you money and peace of mind.